Letterpress Business Card Features
All of our business cards are made by hand in Dallas, Texas and take days, not minutes to complete. We make business cards that reflect your brand by using only the highest quality papers and printing. Let us show you how our craft will win you more business through powerful first impressions.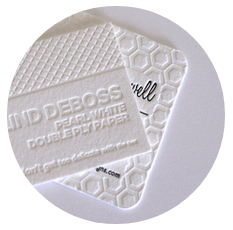 Our business cards are eco-friendly and are made from 100% cotton stocks. We have other stocks available but this is our most popular stock that showcases letterpress well.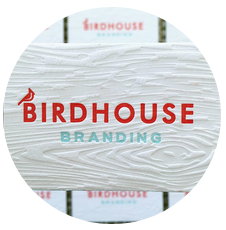 A deep letterpress impression gives your cards a tactile feel that everyone will notice. The quality in the printing speaks for itself.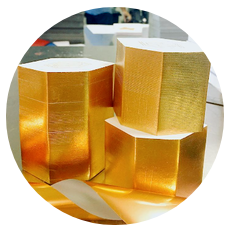 The average luxury business card is 15pt thick. Our business cards are 40pt thick on average. The substantial paper is the perfect background for your business branding or a nice edge treatment ;)
Send us your artwork or let us
develop something completely
custom just for you....
CONTACT US TODAY !
A FEW SAMPLES
visit our
gallery tab
to view hundreds more samples and get educated on various papers,
printing methods, and techniques
Customer Reviews
What our customers think about Cotton Paperie's handmade letterpress business cards!
"Chavvon is amazingly in tune to real time needs.... this is not common & very appreciated. The products speak for themselves, and we will absolutely use them in our future endeavors. Thanks again for all your help & awesome customer experiences." - Kate Z, Dallas, Texas
"Fantastic. I am in love with my new letterpress business cards. The quality is top-notch. You absolutely get what you pay for, and these cards are like little works of art. They are worth it. The entire process was handled through email, and it couldn't have been easier. We did a few design edits until I chose the final version. Then a couple weeks later my cards arrived. I couldn't be more excited about them. Thanks Cotton Paperie!" - January S., Westport, CT


"These guys are awesome. The letterpress quality is amazing and their customer service is excellent. I look forward to getting my business cards printed through Cotton Paperie Letterpress for years to come." - Jean R., Manhattan, NY
"Great work. Customer service was excellent! It takes time, but worth every minute in the end. My client is thrilled with her new letterpress business cards. In a world where you can get 250 cards for $10 in a few days, it's nice to have a card that stands out from everyone else's." - Benjamin W., Stamford, CT


A Few Papers Available
We can make just about paper you can imagine but here's our basic colors that work for most people. View
our gallery
to see the 50+ colors available at no additional charge.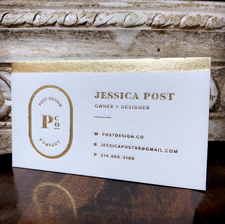 We have an entire family of whites available that includes bright white, soft white, and antique whites as well.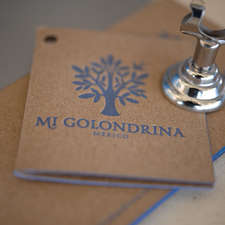 Kraft is a great color option. We also have a nice selection of other recycled and reclaimed paper options.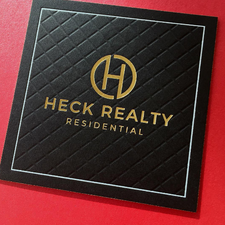 Black is timeless and works well in the right application. Select from a few surface finishes ranging from smooth to rough.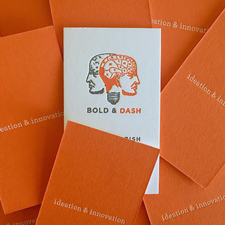 ok, so maybe orange isn't what you had in mind. We have colors available from orange, blue, and violet and everything in between.
Printing Methods We Offer
We offer all the printing methods needed to bring your idea to life. Tell us what you have in mind and we'll make recommendations on how to best accomplish your goals.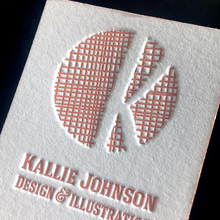 Ink is transferred to a printing plate and stamped into the paper to create an impression. The tactile feel clearly defines letterpress.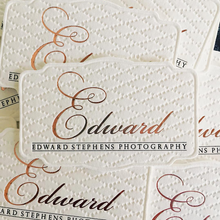 The quilted pattern on these cards is a "blind deboss". It's still letterpress but it has a different name to know that transparent ink vs colored ink is used in the process.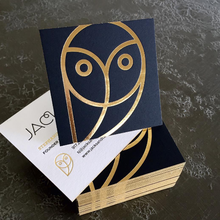 The gold used on this business card is foil stamping. It comes in colors such as silver, gold, rose gold, and platinum but it also comes in colors like white and black.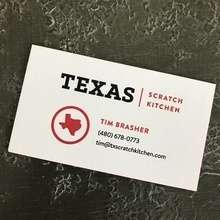 This is flat printing to save money in areas where you may have lots of variable data for different employees or just want a less impactful printing method for design reasons.
A Few Cool Things We Offer
We are not Vista Print or Moo or any of those other printers. At Cotton Paperie, anything is possible. Here are just a few of the add-ons you can use to spice up your business cards.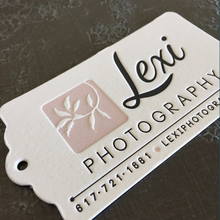 If you can draw the shape or relay it to Cotton Paperie, we can make your business card into that shape.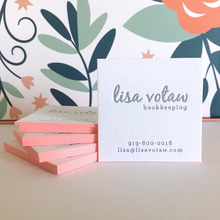 Paint the edges of your business cards to coordinate with your branding and add that special little touch. We also do metallic edge gilding.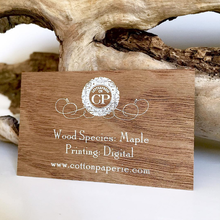 Who says you can't have your business card printed on a half wood and half paper stock. At Cotton Paperie you can. We can make any paper you need for your project.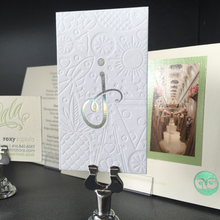 Foil is nice, holographic foil is just cool. We have lots of options to make your business cards special just for you.